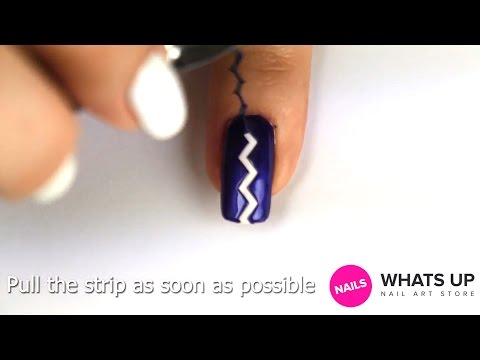 Wide Zig Zag Tape
3.75 €
SKU code: T-WN-034
"Wide Zig Zag Tape" are strips perfect to create a manicure with zig zag pattern. Product consists of 1 sheet 7.5 x 12.5 cm with 72 strips. Each strip is 2.8 cm long and 3 mm wide. Product is one time use. To know more read "How to use" info box.
3 items available
Add to wishlist
How to use
The Brand
1. Apply nail polish to your nail and let it completely dry. You can use a fast dry top coat over nail polish. Make sure nail is dry and free of oily residues before applying product.
2. Peel product from backing sheet and lightly push to the nail paying attention near skin and the tips of nails. You can cut the product to help form to the tip, sides and curvature of the nail.
3. Apply fresh thinned nail polish across the product. Shimmer or metallic nail polishes work better than cremes. You can apply nail polish with a sponge to prevent bleeding for cleaner lines.
4. Remove product immediately after applying nail polish using your fingers, tweezers or nippers while the polish is still wet.
5. Wait until your designa completely dried and apply fresh or thinned top coat. To prevent smearing, apply using the least amount of strokes and hold your brush parallel to your nail. If you want to leave stickers on your nails, seal them with 1-2 thick layers of top coat.
Whats Up Nails is a Us brand specialized in nail art tools and decorations.