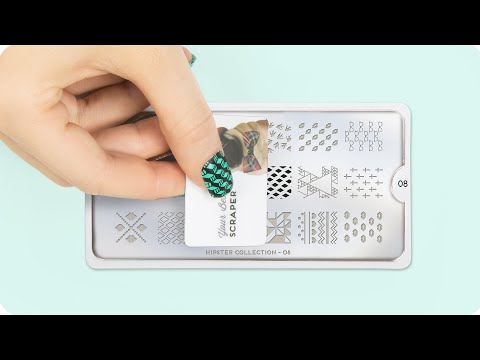 Stamping Plate "Trend Hunter 22"
5.99 €
7.49 €
SKU code: T-ML-069
The plate "Trend Hunter 22" includes 12 different designs (1.5 x 2 cm each), engraved on to the stainless steel image plate and covered with a protective film that has to be removed before use. The image plate measures 6.5 x 12.5 cm with vinyl backing for increased ease of use. Each plate comes singularly in its own branded protective sleeve. The MoYou™ London " Trend Hunter " collection includes the coolest prints and patterns of the season.
3 items available
Add to wishlist
How to use
The Brand
What you need:
Nail Polish – we suggest you the use of an opaque nail polish with strong pigmentation / Stamper & Scraper set / MoYou London Image Plate .

How to stamp:
1. Remove the blue protective film;
2. Apply the nail polish of your choice to the design you wish to stamp;
3. Remove the excess nail polish with a scraper using a 45° angle;
4. Roll the stamp over the selected design being careful not to use too much pressure;
5. Transfer the design by rolling the stamp over you nail;
6. Apply a top coat for a longer lasting result.
MoYou London is an English brand that became famous worldwide for its amazing thematic stamping plates. New designs, eye-catching layout of packaging and high productive standards make all the MoYou London products little gems that cannot miss in every nail art lover collection.