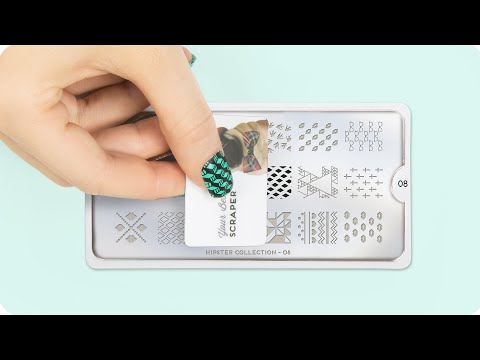 Stamping Plate "Fashionista 09"
6.39 €
7.99 €
SKU code: T-ML-077
The plate "Fashionista 09" includes 12 different designs (1.5 x 2cm each). The designs are engraved on to the stainless steel image plate and covered with a protective film that has to be removed before use. The image plate measures 6.5 x 12.5cm with vinyl backing for increased ease of use. Each plate comes singularly in its own branded protective sleeve. The "Fashionista" MoYou London Collection is inspired by the fashion world and by the creative Mix & Match mood.
2 items available
Add to wishlist
How to use
The Brand
What you need:
Nail Polish – we suggest you the use of an opaque nail polish with strong pigmentation / Stamper & Scraper set / MoYou London Image Plate.

How to stamp:
1. Remove the blue protective film;
2. Apply the nail polish of your choice to the design you wish to stamp;
3. Remove the excess nail polish with a scraper using a 45° angle;
4. Roll the stamp over the selected design being careful not to use too much pressure;
5. Transfer the design by rolling the stamp over you nail;
6. Apply a top coat for a longer lasting result.
MoYou London is an English brand that became famous worldwide for its amazing thematic stamping plates. New designs, eye-catching layout of packaging and high productive standards make all the MoYou London products little gems that cannot miss in every nail art lover collection.